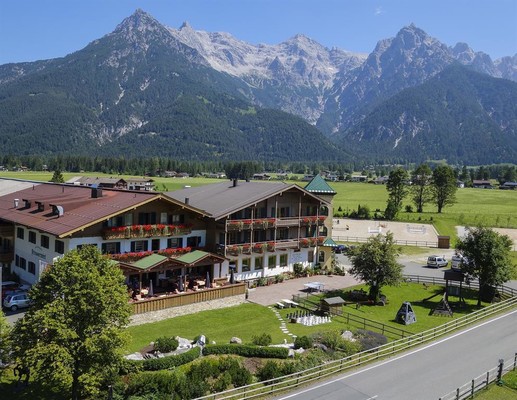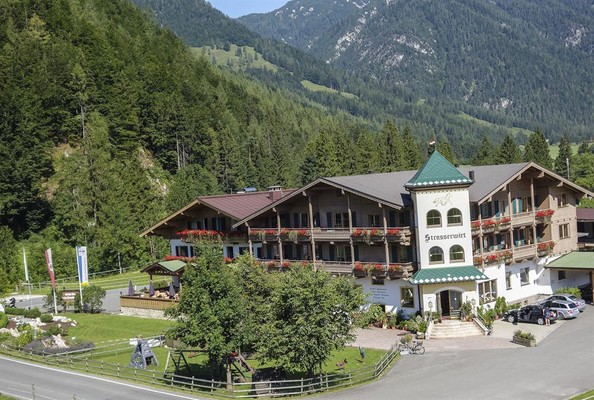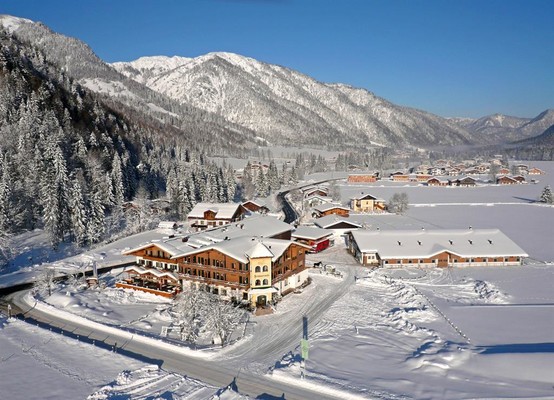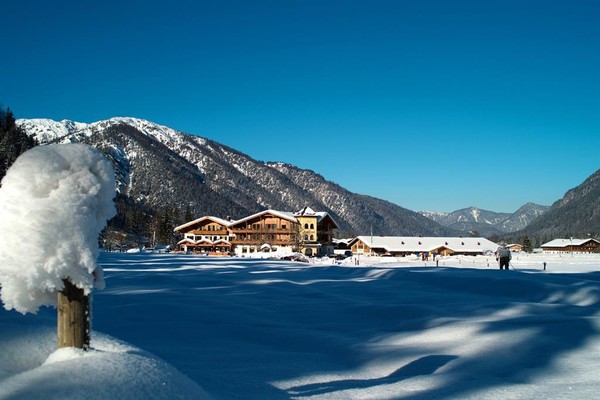 For 70 years the restaurant has been owned by family Nothegger. The hotel is a member of "Holiday with tradition" and "Tiroler Wirtshaus". The restaurant is located nearby the Loferer Steinberge, about 1.5 km away from the village. With a lot of love to details the family had let it grow up to a modern, but also a pleasant and beautiful hotel. 16 convinient, beautifully and rusticly furnished rooms and typical Tyrolean meals are offered.
This accommodation is a member of
Best price guarantee
Cycle /mountain-biking specialists
Cross-country skiing specialists
Gourmet & Culinary
Tiroler Wirtshaus
Landhotels Österreich
Reitarena Austria
Bahnfreundliche Unterkünfte
---
Facilities
Payment methods

advance payment
credit cards accepted
EC-Cash/Maestro
cash payment

Facilities / Services

safe
covered parking for motorcycles
WiFi
lobby
open fire-place
library
lift / elevator
breakfast room
use of clothes dryer
ski-service room
laundry facilities available
farm produce
sundeck
parking space for bicycles
internet - e-mail available
wheelchair accessible
garden furniture
free use of internet
garage
car parking lot
restaurant smoking/non-smoking
panorama restaurant
pets welcome
motorcycle parking spot
reading room
own garden
e-bike charging point
bar
covered parking for cars
ski storeroom
boot dryer
family friendly

Rental

Nordic walking poles
e-bike rental
hiking poles
snowshoes
bike rental

Children

pony riding
children's playroom
baby change pad
children's bikes
petting zoo
crib/baby bed
children's menus
playground
child-friendly
children's play area

Wellness

steambath
infrared cabin
sauna
relaxation room
massage

Meals

home-style cooking
daily salad buffet
half-board possible
children's menu
à la carte menu
daily dessert buffet
traditional cuisine
vegetarian food
buffet evenings
full board possible
à la carte restaurant
lunch buffet
breakfast buffet

Location

outskirts of town
meadowlands
right on the bike path
near the forest
on the hiking path
right at the ski-bus/ hiking-bus/ bus stop
right at the cross-country ski trail
lake - distance (m): 2000

Sports / Leisure time

horseback riding school
fitness room
horse-drawn carriage
indoor riding ring
horse-drawn sleigh rides
sunbathing lawn
mountain/hiking guide
outdoor riding ring
riding
free admission to cross-country ski run
table tennis
hikes/guided hiking tours

Foreign languages

French
German
Italian
English

Farm facilities

rabbits
cats
horses
dogs
sheep

Groups

bus groups possible
groups possible with max. pers.: 40

Conditions

pets € 11,-- a day without food garage per week Euro 35,-- free WIFI in the hotel.

Member - Certified cross country skiing accomodation:
You can be sure that you'll get all teh information you need about cross country skiing tracks in the surrounding area! Equipement such as a ski storage room ar a table to prepare your skis as well as washing and drying services for your sport clothes. This accomodation is located a max. of 3 km from the next cross country skiing track.


Member of Bike Tyrol - tested cycling accomodation:
You can expect a special breakfast, a small bike tool shop to service your bike in a lockable bike storage area etc. Ask the person in cahrge about a detailed bike map and different insider clues.
---
Contact & Directions
Strasserwirt, Landhotel
Straß 85,
6393 St. Ulrich am Pillersee AT
Arrival
arrival from 2 pm, departure till 11 am.
Rooms/Apartments & Prices
Please select arrival date and nights
Rooms
Room details

The apartment Mitterhorn is about 40 meter big, is situated in the first floor and is siutable for 2 to 4 persons. The room is equipped with bathtub and shower, separate toilet, tv, telephone, hairdryer and radio. A generous living space with a big couch and a small table are available. Moreover the Mitterhorn has two balconies with a marvelous view to the mountain called "Loferer Steinberge", the riding court and the cross which is 26 meter high on the mountain called "Buchensteinwand".

Room/apartment features

internet connection available, closet, satellite TV, quiet room/apartment, safe, hairdryer, pets permitted on request, balcony, cable TV, toiletries, bathrobe on request, bed linen available, non-smoking room/apt., desk, TV, telephone, WiFi, towels available, balcony furniture, carpeted bedroom

Location/room with view/apartment

floor: 1

Bathroom facilities

bathtub, shower, separate toilet, running hot/cold water

Bed distribution

pullout couch max. pers.: 2, double bed (1 bed/2 mattrasses)

Room details

The apartment Mitterhorn is about 40 meter big, is situated in the first floor and is siutable for 2 to 4 persons. The room is equipped with bathtub and shower, separate toilet, tv, telephone, hairdryer and radio. A generous living space with a big couch and a small table are available. Moreover the Mitterhorn has two balconies with a marvelous view to the mountain called "Loferer Steinberge", the riding court and the cross which is 26 meter high on the mountain called "Buchensteinwand".

Room/apartment features

internet connection available, closet, satellite TV, quiet room/apartment, safe, hairdryer, pets permitted on request, balcony, cable TV, toiletries, bathrobe on request, bed linen available, non-smoking room/apt., desk, TV, telephone, WiFi, towels available, balcony furniture, carpeted bedroom

Location/room with view/apartment

floor: 1

Bathroom facilities

bathtub, shower, separate toilet, running hot/cold water

Bed distribution

pullout couch max. pers.: 2, double bed (1 bed/2 mattrasses)

Room details

The apartment Mitterhorn is about 40 meter big, is situated in the first floor and is siutable for 2 to 4 persons. The room is equipped with bathtub and shower, separate toilet, tv, telephone, hairdryer and radio. A generous living space with a big couch and a small table are available. Moreover the Mitterhorn has two balconies with a marvelous view to the mountain called "Loferer Steinberge", the riding court and the cross which is 26 meter high on the mountain called "Buchensteinwand".

Room/apartment features

internet connection available, closet, satellite TV, quiet room/apartment, safe, hairdryer, pets permitted on request, balcony, cable TV, toiletries, bathrobe on request, bed linen available, non-smoking room/apt., desk, TV, telephone, WiFi, towels available, balcony furniture, carpeted bedroom

Location/room with view/apartment

floor: 1

Bathroom facilities

bathtub, shower, separate toilet, running hot/cold water

Bed distribution

pullout couch max. pers.: 2, double bed (1 bed/2 mattrasses)

| | |
| --- | --- |
| Size | 60 m² |
| Occupancy | 4 - 6 adults , 0 - 2 children |
| Rooms | 3 |
| Bedrooms | 3 |

Room details

The appartement Seehorn B is 60m² huge, is situated at the second floor and is suitable for 4 to 6 people. Ther is one double and two single rooms. The appartement is equipped with a shower, a separate toilet, telephone, radio, hair dryer, safe and a television. Moreover there is a living room with a comfortable couch and a table. Additional there is an east balcony with a breath-taking view to the mountain called "Loferer Steingerbe" and the riding arena. 

Room/apartment features

internet connection available, separate bedroom/s: 2, satellite TV, desk, family room/apt., safe, TV, bathrobe on request, bed linen available, closet, cable TV, balcony, hairdryer, towels available, toiletries, WiFi, quiet room/apartment, non-smoking room/apt., telephone, carpeted bedroom, pets permitted on request

Bed distribution

pullout couch max. pers.: 2, single bed, double bed (1 bed/2 mattrasses)

Bathroom facilities

running hot/cold water, shower, separate toilet

Location/room with view/apartment

floor: 2

| | |
| --- | --- |
| Size | 60 m² |
| Occupancy | 4 - 6 adults , 0 - 2 children |
| Rooms | 3 |
| Bedrooms | 3 |

Room details

The appartement Seehorn B is 60m² huge, is situated at the second floor and is suitable for 4 to 6 people. Ther is one double and two single rooms. The appartement is equipped with a shower, a separate toilet, telephone, radio, hair dryer, safe and a television. Moreover there is a living room with a comfortable couch and a table. Additional there is an east balcony with a breath-taking view to the mountain called "Loferer Steingerbe" and the riding arena. 

Room/apartment features

internet connection available, separate bedroom/s: 2, satellite TV, desk, family room/apt., safe, TV, bathrobe on request, bed linen available, closet, cable TV, balcony, hairdryer, towels available, toiletries, WiFi, quiet room/apartment, non-smoking room/apt., telephone, carpeted bedroom, pets permitted on request

Bed distribution

pullout couch max. pers.: 2, single bed, double bed (1 bed/2 mattrasses)

Bathroom facilities

running hot/cold water, shower, separate toilet

Location/room with view/apartment

floor: 2

| | |
| --- | --- |
| Size | 60 m² |
| Occupancy | 4 - 6 adults , 0 - 2 children |
| Rooms | 3 |
| Bedrooms | 3 |

Room details

The appartement Seehorn B is 60m² huge, is situated at the second floor and is suitable for 4 to 6 people. Ther is one double and two single rooms. The appartement is equipped with a shower, a separate toilet, telephone, radio, hair dryer, safe and a television. Moreover there is a living room with a comfortable couch and a table. Additional there is an east balcony with a breath-taking view to the mountain called "Loferer Steingerbe" and the riding arena. 

Room/apartment features

internet connection available, separate bedroom/s: 2, satellite TV, desk, family room/apt., safe, TV, bathrobe on request, bed linen available, closet, cable TV, balcony, hairdryer, towels available, toiletries, WiFi, quiet room/apartment, non-smoking room/apt., telephone, carpeted bedroom, pets permitted on request

Bed distribution

pullout couch max. pers.: 2, single bed, double bed (1 bed/2 mattrasses)

Bathroom facilities

running hot/cold water, shower, separate toilet

Location/room with view/apartment

floor: 2

Room details

The single room is about 17 m² big and is situated in the first floor. The room is equipped with shower, toilet, tv, telephone, hairdryer and a radio. The single room is established with dark wood. One room has a balcony to the east side with a mervelous view to the mountains called Loferer Seinberge. The other room has a balcony to the west side towards the street. Bath towels and bathrobes are provided free of charge. WIFI is available in all rooms.

Room/apartment features

radio, WiFi, non-smoking room/apt., internet connection available, cable TV, quiet room/apartment, hairdryer, pets permitted on request, balcony, bathrobe on request, telephone, satellite TV, closet, safe, TV

Bathroom facilities

running hot/cold water, shower, toilet

Bed distribution

sofa, single bed

Location/room with view/apartment

floor: 1

Room details

The single room is about 17 m² big and is situated in the first floor. The room is equipped with shower, toilet, tv, telephone, hairdryer and a radio. The single room is established with dark wood. One room has a balcony to the east side with a mervelous view to the mountains called Loferer Seinberge. The other room has a balcony to the west side towards the street. Bath towels and bathrobes are provided free of charge. WIFI is available in all rooms.

Room/apartment features

radio, WiFi, non-smoking room/apt., internet connection available, cable TV, quiet room/apartment, hairdryer, pets permitted on request, balcony, bathrobe on request, telephone, satellite TV, closet, safe, TV

Bathroom facilities

running hot/cold water, shower, toilet

Bed distribution

sofa, single bed

Location/room with view/apartment

floor: 1

| | |
| --- | --- |
| Size | 70 m² |
| Occupancy | 4 - 6 adults , 0 - 2 children |
| Rooms | 4 |
| Bedrooms | 4 |

Room details

The family suite is about 70 m² big, is situated at the second floor and is suitable for 4 to 6 people. It has one double and two single rooms. Moreover there is a huge living room with a comfortable couch and a table.  The suite "Buchenstein" has a bathtub, a shower, 2 toilets, television, radio, hair dryer, safe and a wood floor. Furthermore there is a south and an east balcony with a marvellous view to the mountains. Additional we are providing a carport for your car. 

Bed distribution

double bed (1 bed/2 mattrasses), single bed, pullout couch max. pers.: 2

Room/apartment features

desk, toiletries, closet, balcony, WiFi, bed linen available, bathrobe on request, balcony furniture, non-smoking room/apt., telephone, satellite TV, safe, hairdryer, family room/apt., room/apt. with connecting door, no carpet, quiet room/apartment, separate bedroom/s: 2, pets permitted on request, anteroom, cable TV, TV, internet connection available

Bathroom facilities

no. of bathrooms: 2, shower, running hot/cold water, double sink, bathtub, no. of toilets: 2

Location/room with view/apartment

floor: 2

| | |
| --- | --- |
| Size | 70 m² |
| Occupancy | 4 - 6 adults , 0 - 2 children |
| Rooms | 4 |
| Bedrooms | 4 |

Room details

The family suite is about 70 m² big, is situated at the second floor and is suitable for 4 to 6 people. It has one double and two single rooms. Moreover there is a huge living room with a comfortable couch and a table.  The suite "Buchenstein" has a bathtub, a shower, 2 toilets, television, radio, hair dryer, safe and a wood floor. Furthermore there is a south and an east balcony with a marvellous view to the mountains. Additional we are providing a carport for your car. 

Bed distribution

double bed (1 bed/2 mattrasses), single bed, pullout couch max. pers.: 2

Room/apartment features

desk, toiletries, closet, balcony, WiFi, bed linen available, bathrobe on request, balcony furniture, non-smoking room/apt., telephone, satellite TV, safe, hairdryer, family room/apt., room/apt. with connecting door, no carpet, quiet room/apartment, separate bedroom/s: 2, pets permitted on request, anteroom, cable TV, TV, internet connection available

Bathroom facilities

no. of bathrooms: 2, shower, running hot/cold water, double sink, bathtub, no. of toilets: 2

Location/room with view/apartment

floor: 2

| | |
| --- | --- |
| Size | 70 m² |
| Occupancy | 4 - 6 adults , 0 - 2 children |
| Rooms | 4 |
| Bedrooms | 4 |

Room details

The family suite is about 70 m² big, is situated at the second floor and is suitable for 4 to 6 people. It has one double and two single rooms. Moreover there is a huge living room with a comfortable couch and a table.  The suite "Buchenstein" has a bathtub, a shower, 2 toilets, television, radio, hair dryer, safe and a wood floor. Furthermore there is a south and an east balcony with a marvellous view to the mountains. Additional we are providing a carport for your car. 

Bed distribution

double bed (1 bed/2 mattrasses), single bed, pullout couch max. pers.: 2

Room/apartment features

desk, toiletries, closet, balcony, WiFi, bed linen available, bathrobe on request, balcony furniture, non-smoking room/apt., telephone, satellite TV, safe, hairdryer, family room/apt., room/apt. with connecting door, no carpet, quiet room/apartment, separate bedroom/s: 2, pets permitted on request, anteroom, cable TV, TV, internet connection available

Bathroom facilities

no. of bathrooms: 2, shower, running hot/cold water, double sink, bathtub, no. of toilets: 2

Location/room with view/apartment

floor: 2