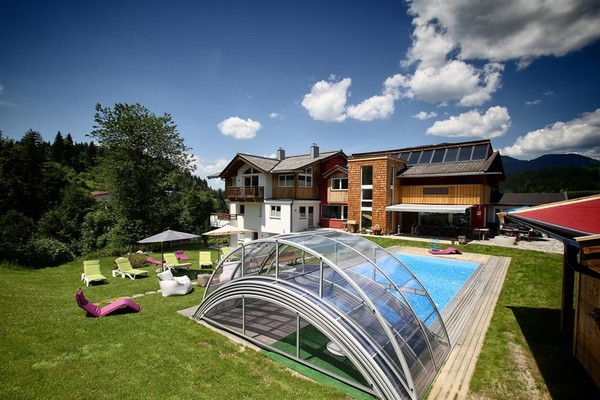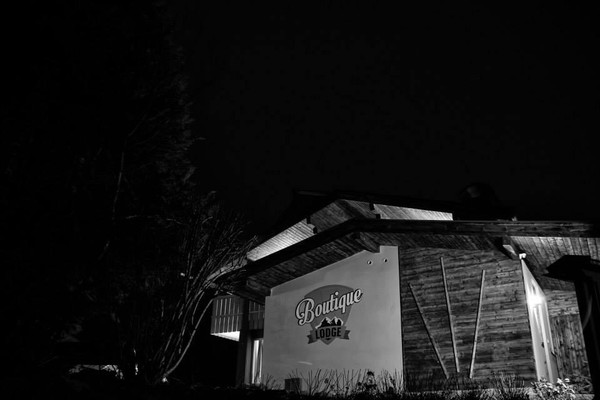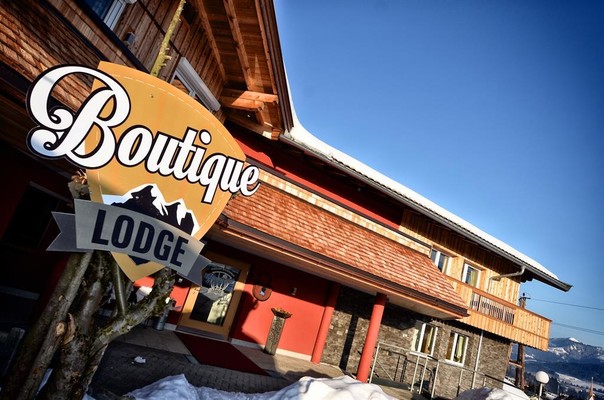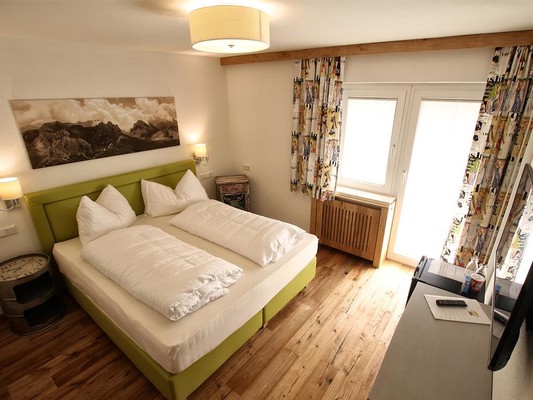 The Boutique Lodge is an exclusive and stylish bed&breakfast in Fieberbrunn, not far from the Pillersee and Kitzbühel. A little secluded from all main roads it it situated in the middle of a spacious garden on a hill between the village and the entrance to the skiing and hiking paradise of Fieberbrunn. From the large sun terrace you can enjoy an outstanding view to the Kitzbühel mountains and the Wildseeloder - definitely a place to feel good. Regardless of whether summer of winter - the Boutique Lodge is perfect for sports activities and unforgettable nature experiences. And with its cosy wellness-oasis, the large heated outdoor pool and the diversified massage and cosmetics supply it offers also the best ways to relax after a varied day.
---
Facilities
Groups

groups possible with max. pers.: 20

Facilities / Services

parking space for bicycles
lobby
breakfast service
bar
common room
pets welcome
boot dryer
luggage storage
family friendly
garden barbecue
ski storeroom
guest garden
WiFi
own garden
internet - e-mail available
free use of internet
car parking lot
breakfast room
garden furniture
sundeck
open fire-place

Farm facilities

wine & spirits
organic products

Children

baby change pad
crib/baby bed
highchair
child-friendly

Wellness

aromatic steam sauna
biosauna
relaxation room
sauna

Payment methods

transfer
EC-Cash/Maestro
credit cards accepted
cash payment
advance payment

Suitability

non-smokers
children
young persons
seniors
business travelers
groups
families
singles

Sports / Leisure time

sunbathing lawn
golf
swimming pool
adventure activities
fitness room

Location

central location
meadowlands
private setting
quiet location
outskirts of town
on the hiking path

Meals

breakfast
late riser's breakfast
gluten-free meals
continental breakfast
breakfast buffet
half-board possible
international cooking
---
Contact & Directions
Boutique Lodge
Lindauweg 24,
6391 Fieberbrunn AT
Arrival
Arrival from 14h00 till 17h00, departure to 10h30.
Coming from St. Johann in Tirol: follow the main street into the center, after the Hotel Alte Post turn right (direction to the skilift), follow the street up the hill, the house is on the right side.
Rooms/Apartments & Prices
Please select arrival date and nights
Rooms
| | |
| --- | --- |
| Size | 20 m² |
| Occupancy | 0 - 2 adults , 0 - 2 children |
| Rooms | 1 |
| Bedrooms | 1 |

Room details

Boxspring-bed for 2 people, upholstery and blankets suitable for allergy sufferers, desk with chairs, bathroom with shower and toilet, bathrobe and hair dryer, balcony (to the west), safe, mini-bar, free wifi, cable-tv, 23 m²




Room/apartment features

balcony, mini-bar, bathrobe, WiFi, furniture suite, hairdryer, safe, TV, bed linen (non-allergenic)

Bathroom facilities

shower, toilet, no. of bathrooms: 1

Bed distribution

double bed (1 bed/2 mattrasses)

| | |
| --- | --- |
| Size | 23 m² |
| Occupancy | 0 - 3 adults , 0 - 3 children |
| Rooms | 1 |
| Bedrooms | 1 |

Room details

Boxspring-bed for 2 people, upholstery and blankets suitable for allergy sufferers, couch bed, desk with chairs, bathroom with shower and toilet, bathrobe and hair dryer, balcony (to the east), safe, mini-bar, free wifi, cable-tv, 23 m²

Room/apartment features

mini-bar, WiFi, safe, furniture suite, TV, bathrobe, balcony, hairdryer, bed linen (non-allergenic)

Bathroom facilities

shower, toilet, no. of bathrooms: 1

Bed distribution

double bed (1 bed/2 mattrasses), pullout couch max. pers.: 1

| | |
| --- | --- |
| Size | 70 m² |
| Occupancy | 0 - 5 adults , 0 - 5 children |
| Rooms | 2 |
| Bedrooms | 2 |

Room details

2 bedrooms for 2 people each, 1 bedroom for 3 people, one of the bedrooms with an access to a balcony (to the east), 2 bathrooms with shower/toilet, bathrobes and hairdryer, kitchen, dining table, living area with couchbed, balcony (to the west), safe, free wifi, cable-tv, 70 m².

With around 70m², this apartment is ideally suited for 5 people. Upon request, we can also expand the apartment to meet the needs of 6 or 7 people. In general, one of the two bedrooms can accommodate 2 people and the other bedroom 3. In both bathrooms there is a shower and WC. Next to the kitchen is a comfortable dinette. The living area with a pull-out couch has a west-facing balcony. From one of the bedrooms you have access to a west-facing balcony, and from the other you step out onto an east

Room/apartment features

living room, dining room, balcony, TV, safe, separate bedroom/s: 2, hairdryer, WiFi, kitchen, bathrobe

Bed distribution

pullout couch max. pers.: 2

Bathroom facilities

shower, toilet, no. of bathrooms: 2

| | |
| --- | --- |
| Size | 77 m² |
| Occupancy | 0 - 6 adults , 0 - 6 children |
| Rooms | 5 |
| Bedrooms | 3 |

Room details

Our warm and cosy family suite is furnished with a lot of old wood and an ocher-bordeaux checkered carpet. The 2-rooms-suite is separated by a door - ideal for 4 - 6 people. Through the many windows you can enjoy an unlimited view to the hiking and skiing area Saalbach-Hinterglemm-Leogang-Fieberbrunn. 2 bathrooms with bathrobes and hairdryer, safe, minibar, wifi, 77 m².

Room/apartment features

balcony furniture, dining room, bathrobe, separate bedroom/s: 3, hairdryer, balcony, terrace, kitchen, desk, no pets allowed, WiFi, no carpet, safe, living room, wheelchair accessible room/apt., TV

Bathroom facilities

no. of bathrooms: 2, shower, toilet

Bed distribution

double bed (1 bed/2 mattrasses), double sofa bed, pullout couch max. pers.: 2

| | |
| --- | --- |
| Size | 50 m² |
| Occupancy | 0 - 4 adults , 0 - 4 children |
| Rooms | 2 |
| Bedrooms | 2 |

Room details

As the name indicates, the 2-room family apartment is ideal for 2 adults and 1-2 children. The bathroom offers shower, toilet, bathrobes and a hairdryer. The wardrobe in the hallway offers plenty of storage space. The balcony of the master bedroom is west-facing and the apartment of course also offers a safe and free wifi.

Room/apartment features

kitchen, garden, hairdryer, wheelchair accessible room/apt., terrace, safe, TV, separate bedroom/s: 3, bathrobe, WiFi, living room

Bathroom facilities

no. of bathrooms: 2, shower, toilet

Bed distribution

pullout couch max. pers.: 2, double bed (1 bed/2 mattrasses)

| | |
| --- | --- |
| Size | 60 m² |
| Occupancy | 0 - 4 adults , 0 - 4 children |
| Rooms | 1 |
| Bedrooms | 1 |

Room details

Exclusive studio with old wood look, bedroom with boxspring-bed and couchbed, upholstery and blankets suitable for allergy sufferers, livingroom bathroom with shower/toilet, bathrobes and hairdryer, own garden-terrace with seating corner and deck chairs as well as barrel-sauna (for up to 4 people), free wifi, cable-tv, minibar, safe, 60 m².

Bathroom facilities

no. of bathrooms: 1, shower, toilet

Location/room with view/apartment

ground floor

Room/apartment features

bed linen (non-allergenic), sauna, TV, living room, separate bedroom/s: 1, garden furniture, hairdryer, safe, WiFi, mini-bar, terrace, studio, garden, bathrobe

Bed distribution

double sofa bed, double bed (1 bed/2 mattrasses)

| | |
| --- | --- |
| Size | 95 m² |
| Occupancy | 2 - 8 adults , 0 - 6 children |
| Rooms | 4 |
| Bedrooms | 3 |

Room details

Our new south facing apartment is almost 90 square meters and therefore ideal for 5-7 people. Basically, both bedrooms are for 2 people. In the two bathrooms are each a shower and toilet. The living area is over 2 floors. In the lower area is the dining area with an open fireplace and on the gallery there is a cozy couch with TV corner.

Room/apartment features

toaster, refrigerators available, separate living room, quiet room/apartment, anteroom, bed linen available, low-noise room/apart., dishwasher, TV, tile stove, separate kitchen, toiletries, cable TV, separate bedroom/s: 3, mini-bar, WiFi, store room, pets permitted on request, non-smoking room/apt., kettle, hairdryer, room/apt. (non-allergic), fireplace, no carpet, kitchen utensils, kitchen, towels available, balcony furniture, separate bedroom/living room, weekly cleaning, balcony, microwave, luxurious furnishing, living room, dining room, safe

Bathroom facilities

shower, bath, toilet, no. of bathrooms: 2, no. of toilets: 2

Bed distribution

pullout couch max. pers.: 0, double bed (1 bed/2 mattrasses), French bed, separate beds

Location/room with view/apartment

loft/attic apartment, main building

| | |
| --- | --- |
| Size | 65 m² |
| Occupancy | 2 - 5 adults , 0 - 3 children |
| Rooms | 3 |
| Bedrooms | 2 |

Room details

In the new House next to the Boutique Lodge ist he new Appartement.
With around 60 m², this Appartement is ideally suited for 4 People.
At the entrance area there is a decent cloakroom.
In the Appartement there is a cozy eat- in kitchen, the most important Kitchen utensils are available.
In one Bedroom there is a big doublebed and in the other Bedroom there are two Singlebeds.
The Highlight of this Appartement is the Gardenterace where you can enjoy the afternoon sun.

Room/apartment features

WiFi, oven, coffeemaker, kitchen, weekly cleaning, anteroom, towels available, separate bedroom/s: 2, dishwasher, terrace, separate living room, refrigerators available, non-smoking room/apt., kettle, no carpet, cable TV, microwave, pets permitted on request, open plan kitchen/living room, furniture suite, kitchen utensils, luxurious furnishing, safe, garden furniture, room/apt. (non-allergic), open foot-end of bed, TV, bed linen available, low-noise room/apart., dining room, garden, separate bedroom/living room

Bed distribution

pullout couch max. pers.: 0, double bed (1 bed/2 mattrasses), sofa, separate beds, single bed

Bathroom facilities

separate toilet, double sink, shower, bath, no. of bathrooms: 1, no. of toilets: 1

Location/room with view/apartment

ground floor